Thai Fusion has closed. And it's replacement E-San Thai is also now closed.
By Vegan's Nightmare
-- Salem Man urges us all to be "
patient and tolerant
" with regards to Salem's latest new restaurant -- as though Eat Salem readers and writers have ever been
anything
but! What? Not funny yet? Anyway, moving on... his post also states that we should wait a couple of months before we do an official review, and I totally agree with that. On the other hand, I also tend to side with restaurant owners who are willing to try something new and different in Salem, so I feel like a "preview-review" is in order to get a sneak peek for the
early adopter foodies
of Salem.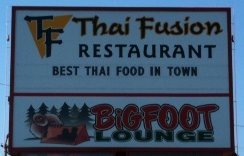 First, I'd like to note that Thai Fusion has strutted onto the Salem food scene with a simple statement (image right). Oh boy! I love a challenge! But don't look here yet for an opinion on the statement's accuracy, it's too early to tell. And please, for
Pork's
sake, please don't turn this post into a flame war over who has the best Thai food in Salem (we'll do that later when the official review comes out).
The Basics:
The lunch menu at Thai Fusion ranges between $7-$10 with most at $7-$8, and the dinner menu ranges $9-$16 or so, with most items around $9-11. The
Statesman Journal Menu Matters
blog has a short summary about the restaurant and it's connection to Bigfoot as well.
Lettuce Wrap with Chicken (appetizer), Spicy Basil with Chicken (#3 hot), Red Curry (#1 hot), Teriyaki Chicken with Broccoli and Brown Rice, 2 Lemonades, ~$40.
The Scene:
For a restaurant open for just a few days, they're definitely on the right track. And even though they're new, I wouldn't hesitate to encourage Thai foodies to step up to the challenge Thai Fusion has set forth. I am a bit reluctant to share too much about how much we loved it at the risk of setting you up for disappointment so early in the game. But, suffice it to say that our first experience was excellent, and the eternally carnivorous VN fam will most decidedly be going back, if for nothing else than to wolf down some more of those lettuce wraps the VN porklets couldn't get enough of.
Now, go! Support your newest local restaurant! But only if you remember to bring your patience and tolerance in case it gets
rocky
!